Retrospect and forward looking
Looking back over a period of over 25 years and at the same time looking forward, a few observations can be made. Good plans have their roots in the past and are pointing to the future. Using the achievements of the past, we are able to meet the challenges of the future. Taking into consideration Integrated Coastal Policy via Building with Nature our concern has been, not only with plans – based on relatively simple and clear principles – but also with processes. Each case involves an integrated design, followed by its execution fully based on the environment, using the most advanced, well thought-out techniques, whilst applying the lessons that the environment – including nature – teach us.

It is noteworthy that the overall investments and maintenance costs of the method based on these principles are significantly lower than those of methods that neither use an integrated approach nor use the environment as a basis. Furthermore, the method Building with Nature improves the environment and simultaneously strengthens the economy as well.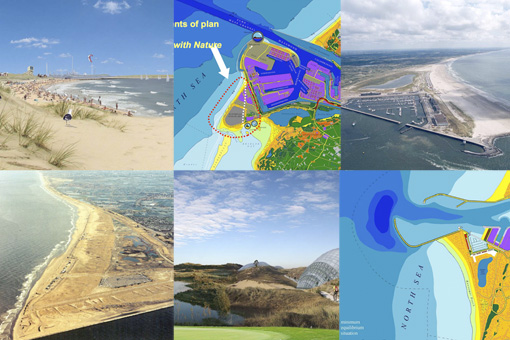 Building with Nature, in addition to Conservation of Nature, will become even more significant in the future. It will not only be absolutely necessary for solving existing and future problems but it will also create added value and help regain lost values. The Environment – including Nature – constitutes the foundation and support for present and future existence.


Broad support

Over the course of years, the necessity of an Integrated Coastal Policy via Building with Nature has become more apparent, not only in Europe but also elsewhere in the world. Remarkable, but not surprising, is that in this period of time broad support for these principles at a global level has been gained. The developed concept has proven to be applicable in a large number of countries in coastal and delta areas. Even in areas far removed from coasts and deltas, these concepts are applicable for natural as well as artificial waterfront developments, and methods similar to Integrated Coastal Policy via Building with Nature are being implemented.


Reshaping the coast of Holland
Integrated Coastal Policy via Building with Nature has proven to be a cutting-edge technology to provide the Dutch provinces of Zuid-Holland and Noord-Holland with a sustainable future. See in
this 15min documentary
the total scope of Ronald Waterman's contribution.